Maxwell Street Musician, 1959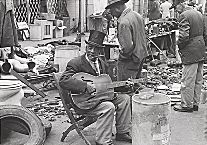 Many cities encourage, or tolerate, street musicians as local color that enhances the culture. Historically, Chicago has not been one of them. Instead, police and city officials have generally treated street musicians as panhandling pests, beggars with guitar cases. Moreover, it takes a hardy soul to sing for a living against the screech of the downtown subway or the winds of the Michigan Avenue Bridge.

Maxwell Street was long the city's hotspot for street blues, until urban renewal and the expansion of the University of Illinois at Chicago claimed much of the prime territory. From Muddy Waters and Howlin' Wolf to Hound Dog Taylor and Maxwell Street Jimmy, the market earned renown as what author Ira Berkow termed "the most important area in the most important city for modern blues in America."

The administration most friendly to street musicians was that of Mayor Harold Washington, who authorized a licensing system in the mid-1980s that allowed buskers to ply their trade for a token fee of 10 dollars. By the late 1990s, however, street musicians were once again subject to misdemeanor arrest for solicitation of public funds.

Bibliography

Berkow, Ira. Maxwell Street. 1977.