Houseboat of Elma Lockwood Streeter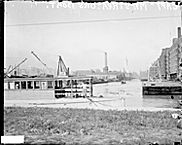 Neighborhood in the Near North Side Community Area. Early maps of Chicago showed little but lake immediately north of the Chicago River and east of Pine Street (Michigan Avenue) where Streeterville is now located. Sand and silt accumulated north of a 1,500-foot pier built at the mouth of the river in 1834 and was nicknamed "the Sands." The arrival of squatters on the Sands and the emergence a vice district alarmed investors in lakefront property. In 1857 they persuaded Mayor "Long John" Wentworth to clear out the trespassers.

Confrontations between squatters and lakefront property owners recurred after 1886, when George Wellington Streeter (1837–1921) stranded his boat on the Sands. "Cap'n" Streeter claimed that his grounded ship created this land, which was therefore outside of Illinois' jurisdiction. Streeter's brashness endeared him to local newspapers, which delighted in reporting on his "Deestric of Lake Michigan." A series of eviction attempts escalated into gun battles and landed him in prison. Finally, in 1918 the court ruled Streeter's claims invalid. Some of Chicago's most expensive land and famous buildings, including the John Hancock Center and Water Tower Place, now stand on the formerly contested site.

Bibliography

Stamper, John W. "Shaping Chicago's Shoreline." Chicago History (Winter-Spring 1985–86).

Tessendorf, K. C. "Captain Streeter's District of Lake Michigan." Chicago History (Fall 1976).