Tri-State Toll Plaza, 1964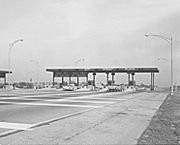 Encouraged by the success of other states with toll roads to serve growing intercity traffic, the Illinois General Assembly created a Toll Highway Commission in 1953. The commission became the Illinois State Toll Highway Authority in 1968.

The original routes consisted of the Northwest Tollway, now I-90, from Rosemont to South Beloit; the Tri-State Tollway, a bypass route running south and west of Chicago as I-294, continuing north to the Wisconsin border as I-94; and the East-West Tollway, now I-88, from Hillside to Aurora. Construction began in late 1956 and the 187-mile system, costing approximately $459 million, was opened in sections in 1958.

The system was initially geared to intercity traffic, with widely spaced interchanges and several "oasis" service plazas. The new highways both encouraged and served suburban development, however, and soon became Chicago-area commuter routes. When the system opened, approximately 70 percent of traffic was long-distance. By the end of the twentieth century tollway officials estimated 70 percent was commuters.

In 1971, ground was broken for the East-West Tollway (now I-88) extension west of Aurora across northern Illinois to near Moline, which opened in sections in 1974. The North-South Tollway (I-355), built to serve suburb-to-suburb traffic, opened in 1989 from I-55 to Addison, where the route continues as I-290 and Illinois Route 53 through Schaumburg to Buffalo Grove. Proposed extensions—south to I-80 and north into Lake County —have stimulated debate over whether highway construction induces development that would not otherwise occur.

Bibliography

Illinois State Toll Highway Authority. Illinois Tollway: Concise History. 1989.