Tornadoes, nature's most evil wind, have been no strangers to the Chicago area. Over the last one hundred years, the metropolitan area has experienced numerous tornado-related deaths.
Effects of Tornado in Elgin, 1920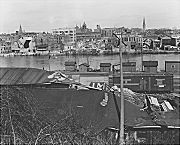 From the 1960s into the 1990s, severe weather and tornadoes have increased in frequency in the far western and southwestern suburbs, for obscure reasons. One theory suggests that cooler winds from Lake Michigan collide with hot air coming up from the southwest, giving extra lift to thunderstorms in a corridor from Aurora to Joliet and south toward Kankakee. However, tornadoes can occur anywhere in the Chicago area. The downtown area and the lakefront are not immune to tornado activity. On a gray and windy day in April 1967, a swarm of tornadoes struck the area, killing 58 people. Oak Lawn was hit particularly hard. The tornado then skipped across the South Side of the city, crossing the Dan Ryan Expressway at rush hour, and hitting the lakefront near 79th Street.

On June 13, 1976, a wild twister looped through the Lemont area, killing two people and remaining on the ground for more than an hour. More recently, the Plainfield and Will County tornado on August 28, 1990, left 29 people dead and caused $165 million in damage. It is believed to have been the most powerful tornado to strike the U.S. during the month of August. The Lemont area was struck again in March 1991, with minor damage.