The Woodlawn Organization, 1963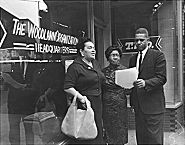 The Woodlawn Organization, a premier example of the organizing style of Saul Alinsky, gained national prominence in the 1960s as a militant protest organization. In struggles with its South Side neighbor, the University of Chicago, and with the city administration, TWO developed tactics that empowered Woodlawn residents and advanced TWO's goal of "black self-determination." As TWO developed, it engaged in less controversial activities. Unable to halt neighborhood deterioration in the seventies, TWO continued to provide service programs and survived to become a major player in the rebuilding of a new Woodlawn neighborhood at the end of the century.

Bibliography

Brazier, Arthur. Black Self-Determination: The Story of the Woodlawn Organization. 1969.

Fish, John Hall. Black Power/White Control: The Struggle of the Woodlawn Organization in Chicago. 1973.

McCallister, Brent Hall. "From Protest to Program: The Conservative Evolution of the Woodlawn Organization." B.A. thesis, Princeton University. 1998.