Fourth Presbyterian Church, 1965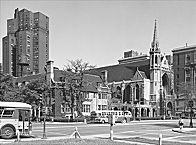 In 1871 two churches merged to form Fourth Presbyterian Church. The new congregation worshiped at Superior and Rush from 1874 until 1914, when it moved to its current location on North Michigan Avenue's "Magnificent Mile."

Home to wealthy congregants and influential pastors, Fourth Presbyterian soon earned a civic and national reputation befitting its magnificent Gothic structure. Called "a social settlement with a spire," the church reached out to the poor in the nearby "Little Hell" neighborhood. It helped create the Presbyterian Hospital in 1884, and it seeded sister churches in the city's immigrant enclaves. Social activism continued during the twentieth century, as members tutored Cabrini Green children and Cook County Jail inmates. In 1979 the church helped to create Atrium Village, an innovative mixed-income housing development.

Known throughout its history for preaching, community outreach, education, music, and the arts, Fourth Presbyterian Church has positioned itself as a model for mainline Protestantism in the new century.

Bibliography

Scroggs, Marilee Munger. A Light in the City: The Fourth Presbyterian Church of Chicago. 1990.

Wellman, James K., Jr. The Gold Coast Church and the Ghetto: Christ and Culture in Mainline Protestantism. 1999.