Lincoln Park Conservatory, 1906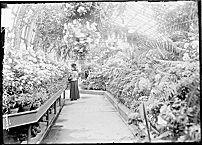 Spanning a 385-acre site of once-swampy marshland in suburban Glencoe, the Chicago Botanic Garden is the culmination of nearly a century's work by the Chicago Horticultural Society. Formed in 1890 to help keep the city true to its motto "Urbs in Horto" (Garden City), the society lost much of its momentum in the early twentieth century, letting its charter lapse during the Great Depression. The World War II "victory gardens" campaign helped revive the organization and renew interest in a large public garden.

The Garden (comprising more than 20 individual gardens) is a joint project. The Cook County Forest Preserve turned the land over to the Horticultural Society in 1965, creating a major public-private partnership. Planting began in 1972, and the Garden opened to the public later that year. Its choice of exhibits makes the Chicago Botanic Garden an archetypal Chicago institution: while preserving a peculiarly Midwestern flavor, it has also featured plant life from environs as far and diverse as Russia and Japan. Though located in the suburbs, the Garden is accessible by Metra; it served nearly 900,000 visitors in 1998.