Aerial view of Goose Island, c.1970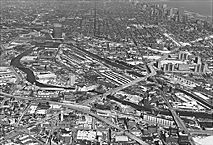 Neighborhood in the Near North Side Community Area. William B. Ogden created Goose Island in the 1850s when he had a canal cut across the meandering path of the Chicago River's North Branch approximately from North Avenue to Chicago Avenue. The waterfront sites drew noisome industries, including tanneries, breweries, and soap factories. Some Irish factory workers took up residence on the island, which took its name from the geese they kept. In the 1890s, a few Polish workers made their homes there, but Goose Island's 160 acres were primarily industrial.

In the late twentieth century, Goose Island's industries declined. Rising land values in the Near North Side and nearby Lincoln Park prompted speculation over transforming the vacant factories into luxury residential lofts. In 1990, however, Mayor Richard M. Daley declared Goose Island the city's first Protected Manufacturing District.

Bibliography

Winslow, Charles S. Historic Goose Island. 1938. Typescript. Newberry Library.