Woman Suffrage Sample Ballot, 1912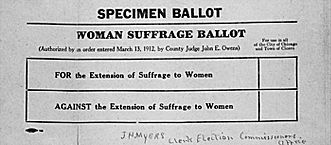 The Chicago Woman's Club founded the Chicago Political Equality League in 1894. Prominent clubwomen Ellen Henrotin and Mary Wilmarth, suffragist Catharine Waugh McCulloch, and Unitarian minister Celia Parker Woolley organized this group to work for women's full political equality. The league began with an elite membership of approximately 100, drawn heavily from the Chicago Woman's Club. The membership expanded to 1,400 in 1913–14. Over time its members included a broad range of Chicago women, including settlement house founder Jane Addams, African American activist Ida B. Wells-Barnett, teachers' union leader Margaret Haley, and public schools' superintendent Ella Flagg Young.

The league circulated suffrage literature and petitions on the ward and precinct levels in the city and lobbied the state legislature to grant women the right to vote. In 1912, it formed alliances with the Chicago Women's Trade Union League and middle-class and settlement-house women's clubs to put a municipal suffrage advisory ballot before Chicago male voters. This referendum failed, but the state legislature granted Illinois women partial suffrage the following year. The league then campaigned for women's voter registration and for women poll judges in Chicago, marched in national suffrage parades, and worked with the national suffrage movement for full suffrage. It also held study classes and public meetings that debated every aspect of women's political, legal, and economic status. Its members worked for municipal housing reform and social welfare for children. They joined picket lines in support of striking women workers. The league disbanded in 1920 after the national suffrage amendment was ratified.

Bibliography

Buechler, Steven M. The Transformation of the Woman Suffrage Movement: The Case of Illinois, 1850–1920. 1986.

Chicago Political Equality League. Annual and Yearbook. 1895–96 to 1920. Chicago Historical Society.

Frank, Henrietta Greenebaum, and Amalie Hofer Jerome. Annals of the Chicago Woman's Club for the First Forty Years of Its Organization, 1876–1916. 1916.