Pere Marquette in tow on Chicago River at State Street Bridge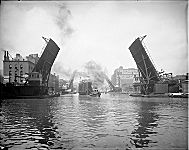 During the 19th century Chicago's river harbor was a congested, polluted, and profitable maritime center. It was at once a great economic engine, an obstacle to business progress, a home for some, a job site for others, a haven for criminal activity, and the city's doorway to the world. Like all great harbors, the Chicago River was a threshold environment, a place where the world of the water meets the world of the land. Unlike most ocean ports, however, seasonality made the Chicago harbor two vastly different places.

Lumber slips on the Chicago River, and the Washington St. Pedestrian Tunnel

During the shipping season, April-November, the ships constantly jostled their way through Chicago's narrow waters. Traffic control, such as it was, fell to the harbormaster, who steamed the river in a motor launch. Whenever a ship prepared to enter the river the harbormaster's assistant, atop the lighthouse at the mouth of the river, would send a telegraphic request for a tugboat. On a busy day hundreds of white-sailed schooners would enter or leave the harbor, all escorted by the busy tugs. Most of the ships were lumber schooners from northwoods mill towns that had to be towed along the South Branch to the Pilsen neighborhood, where numerous canals and slips had been dug allowing the ships access to the vast plain of piled lumber stored on Chicago's west side. At any one time as much as 400 million board feet of wood awaited sale and shipment by rail to the west. Grain ships, returning from the long run to Buffalo, New York, were towed to the giant elevators that loomed over the main branch of the river and along the lower reaches of the North Branch. The bane of the tub boat skipper's life were not the many ships in need of a tow, but the men who sat loftily in small bridge-houses atop the numerous pedestrian spans over the river. During the nineteenth century most of the city's bridges were swing bridges set on cribs in the center of the narrow waterway. The bridge tenders had the job of balancing the needs of boats to transit the river with the frustrated shouts of pedestrians and teamsters trying to commute through the heart of the city. The tug captains, moving a tow under a full head of steam, not infrequently ignored the tender's signal that that bridge was about to swing shut. Tenders revenged themselves on such vessels by dropping lumps of coal on the passing ship, as well as a steady stream of curses. Commuters were so perturbed by the constant delays caused by bridge openings for ships that in 1868 city officials ordered the construction of several tunnels under the Chicago River. These caused the ship captains to complain. Large, fully loaded vessels, especially during low water, would run aground on top of the tunnels.

Workers unloading cargo from a canal boat, 1912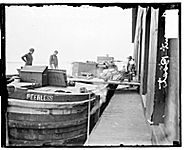 All along the Chicago River was a network of wharves, factories, and warehouses that provided employment for thousands of workers. Just beyond the river stood the commission offices, boarding houses, bars, and brothels that attended every great port in the

Dock workers loading a ship on the Calumet River near the 95th Street bridge, 1987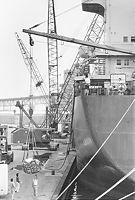 world. Until well into the twentieth century Chicago's main vice districts were always adjacent to its port. Along these wharves and in the bars vessel captains scrounged for crews after dark, while pimps and prostitutes hunted for "pigeons." The police patrolled the wharves very cautiously and warehouses left unlocked and ships left unattended invariably attracted thieves. During the light of day the wharves were the domain of the longshoremen. Work gangs of a half dozen or more men were organized in one of the saloons and headed by a foreman. Most labored as "lumbershovers" and unloaded the schooners amid the west side lumberyards. Along the North Branch the dockworkers tended to be grain or coal trimmers, who worked stripped to the waist in the hold of a ship or the belly of a rail car ensuring the stream of grain that fell from an elevator was evenly distributed. Chicago's longshoremen were among the first unskilled workers to mobilize for collective action to improve their wages. They played a key role in the Great Strike of 1877.

By late November the cacophony of the busy river harbor quieted. In winter ice made sailing the inland seas nearly impossible and several hundred ships would tie up in the frozen river. More than 2,500 sailors spent the season idle in the city. A veteran mariner—sometimes the vessel owner—would move his family into the cabin and mind the ship for the winter. Wintering vessels were tied up three or four deep, linked by gangways. Postmen delivered the mail each day directly to the vessels. On cold days the young and old alike took to their skates and followed the frozen river from one neighborhood to the next.

Aerial view, Navy pier, ca. 1920-21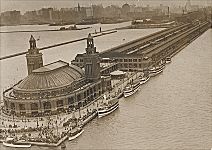 In spite of being closed in the winter, Chicago was America's busiest port. In 1871, more ships arrived here than New York, San Francisco, Philadelphia, Baltimore, Charleston, and Mobile combined. The river harbor thrived when the inland seas were dominated by large numbers of small ships. When large ships of 400 to 500 feet in size became common, however, Chicago was forced to make a painful choice. The center city could not continue to be both a busy business district and a great port. Early in the twentieth century city officials rejected plans to greatly expand the downtown port. Thereafter, industrial shipping gradually transferred south to the Calumet River. During the 1880s the U.S. Army Corps of Engineers made major improvements to that waterway and it became the preferred destination of large lakers. Access to the big ships

Chicago harbor, Jul. 24, 1961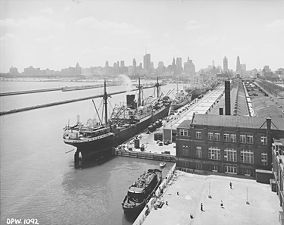 and cheaper real estate spurred major industries such as grain storage and steel production to move to the Calumet Region. Throughout the twentieth century Chicago's river harbor experienced a decline of commercial traffic. Shipping revived briefly at Navy Pier following the opening of the St. Lawrence Seaway in 1959. But this lasted little more than a decade. Chicago remains the homeport for hundreds of boats, but they are the sportsmen's yachts, not the working ships of the lake.

Bibliography

Hill, Libby. The Chicago River: A Natural and Unnatural History. 2000.

Cain, Louis. Sanitation Strategy For A Lakefront Metropolis. 1978.

Karamanski, Theodore. Schooner Passage: Sailing Ships and the Lake Michigan Frontier. 2000.

Solzman, David. The Chicago River: An Illustrated History and Guide to the River. 1998.

Karamanski, Theodore and Deane Tanke. Maritime Chicago. 2000.

Cronon, William. Nature's Metropolis. 1983.

City of Chicago. Chicago Waterways: Background and Policies. 1982.

Lawson, John. Those Army Engineers. 1979.

Bukowski, Douglas. Navy Pier: A Chicago Landmark. 1996.

Quaife, Milo. Lake Michigan. 1944.

Quaife, Milo. Checagou, 1673-1835. 1933.

Hansen, Harry. The Chicago River. 1942.

Wille, Lois. Forever Open, Clear and Free. 1972.