Map of Cook and DuPage, and parts of Kane, Kendall, and Will Counties, 1851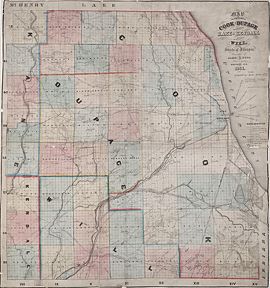 Water's importance to Chicago history is as much a human story as a geographical one. People must have water to survive. We need drinking water. We need water for fire protection. We need water to clean ourselves and our environment. For most cities, over most of human history, water has been a central part of everyday life.
Beyond these basic needs, urbanites in cities like Chicago have also looked to water as an economic resource: for transportation and for industrial operations. Chicago's strategic location, between the Great Lakes and the Mississippi River Valley system, evolved as the United States expanded westward, especially after the acquisition in 1803 of the Louisiana Territory. While Chicago's role as a railroad hub became a dominant factor by the second half of the nineteenth century, its water location defined initial development and shaped subsequent growth.
Water is an amenity as well as a necessity and economic resource. Water provides scenic space in cities and offers rich recreational resources. For many urbanites, proximity to water can provide moments of relaxation and repose amidst the hustle and bustle of city life.
Regional Waterways Map, 2004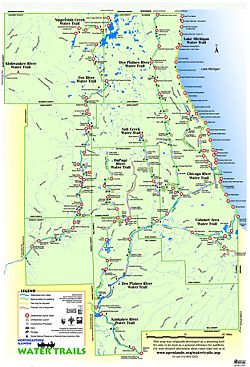 In cities around the world, a central theme is the contrast between water as a resource essential to urban growth and water as a waste product, an encumbrance to development. In Chicago, this theme is shaped by three factors: the great wealth generated by the dramatic growth of metropolitan Chicago during the rail/industrial age; the hubris of past Chicagoans in the face of natural conditions; and Chicagoans' ultimate reliance on politics and the market to mediate conflicts over water.
But if water is essentially both a natural resource and a potential environmental problem its role remains a function of human agency. In Chicago and other cities it has been mobilized and adapted through the initiative of individuals and institutions, in both the public and private sectors. Without infrastructure shaped by public policy, for example, water itself could not have brought indoor plumbing to Chicagoans in the nineteenth and early twentieth century. This Interpretive Digital Essay explores this human connection that turned lakes and waterways into resources for industry, recreation, and transportation, and made water a focal point of social conflict and negotiation.
This digital essay on water combines the work of researchers from several disciplines. Each has contributed their own perspectives to thinking about water in the Chicago region. Special thanks to essayists: economist Louis Cain (Loyola University Chicago); historian Theodore Karamanski (Loyola University Chicago); and geographer David Solzman (University of Illinois at Chicago). Historians Sarah Marcus and Gwen Jordan, both on staff at the Chicago Historical Society, contributed key galleries to this project. The origins of this essay rest in the vision of Janice L. Reiff. The overall shape of this digital essay on water is the result of lively discussion and debate which included these scholars, as well as Carl Smith (Northwestern University), James Grossman (The Newberry Library) and Russell Lewis (Chicago Historical Society). Finally, a special thank you to the developers and designers from Northwestern University who produced this essay, including Harlan Wallach, Bill Parod, and Jeremy Brunjes.