Near the Franklin Street Bridge, c.2000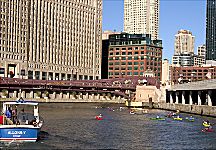 On nearly any early morning in warm weather, you might hear the soft sound of paddles breaking the placid surface of the Chicago River. Swooping and squawking gulls escort the rowers as their sculls slide along. Such human-powered craft provide vivid evidence of a revolution in the character and use of the river from a polluted industrial corridor to a beautiful amenity in the heart of the city. This transformation resulted from changes in industrial practices and transportation technologies that have reduced the importance of river commerce, public insistence on a cleaner environment, and changing attitudes toward an active and outdoor-oriented lifestyle for urban dwellers.

Canoe Race at Ping Tom Park, c.2000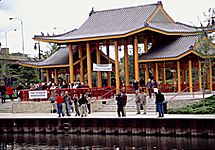 Within the congestion and clamor of the central city, the river now provides not only a path for waterborne commerce, but open space with quiet vistas, opportunities for fishing and boating, and occasional glimpses of wildlife not seen in the area for more than one hundred fifty years. Citizen groups such as the Friends of the Chicago River are working to create a citywide riverwalk, which will increase access for anglers, cyclists, walkers, and dreamers. Currently, Chicago is welcoming a growing number of new riverfront parks, including Chinatown's Ping Tom Memorial Park, and the Canal Origins Park, which marks the eastern terminus of the historic Illinois and Michigan Canal.

New Housing Construction along Bubbly Creek, c.2000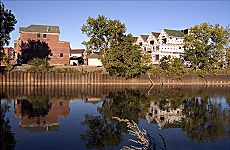 Improving river quality has also helped generate new commercial development. Increasing numbers of restaurants now choose river locations to make use of the attractive open space the water provides; and water taxis use the river to move quickly through the often-congested central city. However, the most important change along the river is the growing number of residences that utilize the stream as a major amenity; the river's edge has become the city's hottest area of new housing development. Stacked townhouses, single-family homes, and high-rise apartments line the river and invite young homeowners and "empty-nesters" back to the city. These high-priced homes offer boat launches, picnic grounds, and parks facing the stream.

Bubbly Creek, with chicken standing on crusted sewage, 1911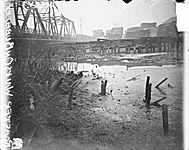 The new residences stand where past industries slaughtered cattle, tanned hides, rolled steel, built boats, stacked lumber, or stored grain. The development along the river is so intense that new apartments are even springing up along Chicago's notorious "Bubbly Creek," where stockyards once discarded their offal and the river bubbled due

Fishing in Bubbly Creek, c.2000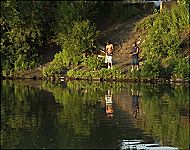 to decomposition of material on the bottom. Today, herons, geese, and ducks paddle through the area while new apartments sprout along the banks. Chicago's extraordinary architecture can be viewed from the river, and every day tourists flock to a variety of tour boats to see the world-famous buildings from this unique vantage. Boat tours provide lectures on architecture, history, natural history, and on the city's unique collection of moveable bridges. They serve the tourist industry that is key to Chicago's economy.

Barge and Tugboat on the South Branch, c.2000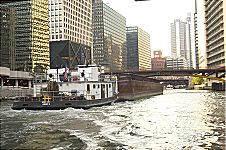 Despite the growth of leisure activities, however, the Chicago is still a working river. Barges still carry coal, scrap, salt, and petroleum and building materials to the many industries that still operate along the river. Fortunately for Chicago's economics, the river winds through both the north and south sides of the city, allowing low-cost shipment of heavy cargoes such as sand, gravel, and concrete. Conflicts between industrial and leisure uses intensify during warm weather and cause some industries to conduct barge operations at night to avoid the recreational craft that ply the river by day. The city works actively with citizen and business groups to ameliorate such conflicts even as recreational uses increase. Today, in addition to human-powered watercraft, thousands of recreational motor and sailboats pass through the Chicago River each spring en route to summer moorings along the lakefront and return in autumn for winter storage.

Eastland disaster rescue efforts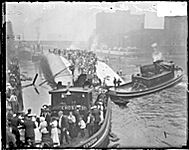 The current ascendance of leisure and recreational uses along the Chicago River differs considerably from the strong commercial and industrial pattern that dominated from the 1830's into the 1980's. Lumberyards, grain elevators, tanneries, steel mills, and stockyards ruled the riverbanks. Of course, there always was some recreational activity on the river. Even in the 1880s when the river was the nation's busiest port and terribly polluted, Chicagoans still ice-skated the frozen stream in winter. The upper reaches of the North Branch allowed fishing, swimming, and boating. In addition, lake steamers carried passengers across the Great Lakes and on short excursions. One such voyage ended in tragedy when the steamer Eastland capsized at its dock, killing more than 800 workers onboard for a day's cruise.

Chicago River straightening, 1929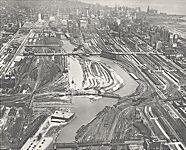 Marked change for the river began in 1900 with the completion of the Chicago Sanitary and Ship Canal, which markedly increased the flow of Lake Michigan waters into the Chicago River, forcefully diverting the industrial effluents and city sewage westward toward the Mississippi. This final stage of the river reversal solved the twin problems of safeguarding the city's water supply and removing its wastes. With the reversal, Lake Michigan water surged through

Swimming marathon, Chicago River, 1908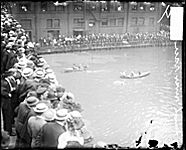 the river at a volume of about six billion gallons each day. It was as if a little Niagara had appeared that drained westward at half the volume that daily plunged over Niagara Falls. The enormous current swept the river and flushed out much of the pollution. Suddenly the river was much cleaner and much less of a foul-smelling eyesore than it had been. Swimming marathons, held from 1908 to 1914, celebrated the changed character of the river.

Chicago River locks from Lake Michigan, 1961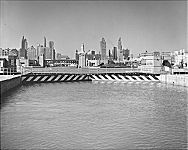 In 1930, the Federal Government forced Chicago to build a controlling lock and dam at the river mouth to limit the diversion to about two billion gallons per day, and once again, the river became a polluted nuisance rather than an amenity. In the 1960s an awakening environmental consciousness led to laws to protect and resurrect damaged environments, and these laws, linked to local problems of pollution and flooding, led the Metropolitan Water Reclamation District to undertake the Tunnel and Reservoir Project: "The Deep Tunnel." This enormous and expensive project did result in a much cleaner river; unfortunately, some of the fearful pollution of the industrial past still lay trapped in river bottom sediments. However, despite this toxic legacy, water quality continued to improve, fish began to return to the river and Bertrand Goldberg designed Marina City to embrace the river. The spirit of the Chicago River has begun to come full circle now that it is cleaner than at any time since the beginnings of outside settlement. Native peoples living near the stream could not have envisioned the tumultuous future changes that would overtake the little creek that carried their canoes as they dipped their paddles into its placid surface.

Marina City towers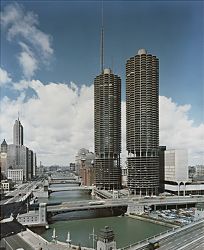 Bibliography
Bukowski, David. Navy Pier: A Chicago Landmark. 1996.
Conzen, Michael P. and Kay Carr. Illinois and Michigan Canal National Heritage Corridor. 1988.
Hansen, Harry. The Chicago River. 1942.
Mayer, Harold M. The Port of Chicago and the St. Lawrence Seaway. 1957.
Solzman, David. Waterway Industrial Sites: A Chicago Case Study. 1966.